About Us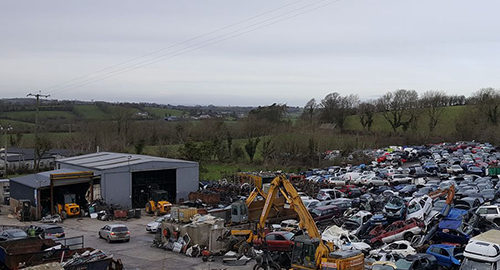 Armagh Car Breakers was set up in 1992 by current owner Kenny McClelland. Since then the business has moved into other sectors of the scrap metal industry and have recently launched their metal recycling service.
Throughout its years of trading the business has built up a reputation for honesty and trust with its customers. Armagh Car Breakers's know the importance of building up good relations with their customers and providing a service customers want to use again.
Services
Armagh Car Breakers is a registered member of CarTakeBack.com. We recycle metals responsibly at a competitive rate, and they comply with all current legislation within the UK making us a front runner in the metal recycling industry.
The company is an Authorised Treatment Facility (ATF) and holds a full waste management licence for scrap metal.
Metals
Armagh Car Breakers's deal in both ferrous and non-ferrous metals. From the use of the weigh bridge metals can be delivered on a day-to-day basis or a collection service is in place if needed.
Customers are always offered our best prices which have proved to be amongst the most competitive in the industry. All of our metal products are processed to the highest standard and conform with all regulation and legislation in place in the UK today.
Armagh Car Breakers's is an Authorised Treatment Facility (ATF) and the company holds a full licence for the waste management of scrap metals.
Motors
Over the years Armagh Car Breakers's has diversified into many sectors of the industry. However, the company's core service lies with motor vehicles. With our competitive purchasing rate we hold parts for most vehicles on today's roads. So give us a call and one of our helpful staff will help you with whatever part you may need.
Armagh Car Breakers's has a wide range of equipment, this includes a transporter, that enables the business to transport vehicles around the UK and Ireland.
We also have a recovery and storage service in operation, this enables us to collect your damaged car and store it safely for as long as you may need.
Recycling
Armagh Car Breakers's is an expert in vehicle recovery and depollution. Our facilities allow us to process decommissioned vehicles to the highest of safety and quality standards. Our process is made up of removing all fluids, such as oil or fuel, from the vehicle and then baling the vehicle, making it ready for export.
Our skip delivery and collection service means that recycling your old scrap metal can be made even easier with a skip being delivered and collected to and from your premises.
24 Hour Recovery
Armagh Car Breakers offer 24 hour recovery service within a 7 mile radius of Tassagh. If you require this service please call Tony on 0775-640-4572